Gutters  Draining Properly 

CITIES SERVED

Denver | Aurora | Arvada | Westminster | Centennial | Thornton | Highlands Ranch | Littleton | Broomfield | Wheat Ridge | Englewood | Northglenn | Commerce City | Greely | Golden | Federal Heights | Greenwood Village | Cherry Hills Village | Sheridan | Edgewater | Lone Tree | Glendale | Bennett | Strasburg | Byers | Indian Hills | Kittredge | Deer Trail | Morrison | Sedalia | Black Hawk | Idledale | Eastlake | Henderson | Adams City | Watkins | Dupont | Montbello | Acres Green | Foxfield | Welby | Applewood | Bow Mar | Carriage | Columbine | Cottonwood | Derby | Gold Hill | Grand View Estates | Gunbarrel | Heritage Hills | Ken Caryl | Lakeside | Meridian | Mountain View | North Washington | Roxborough Park | Sherrelwood | Southglenn | Parker | Franktown | Evergreen | Deckers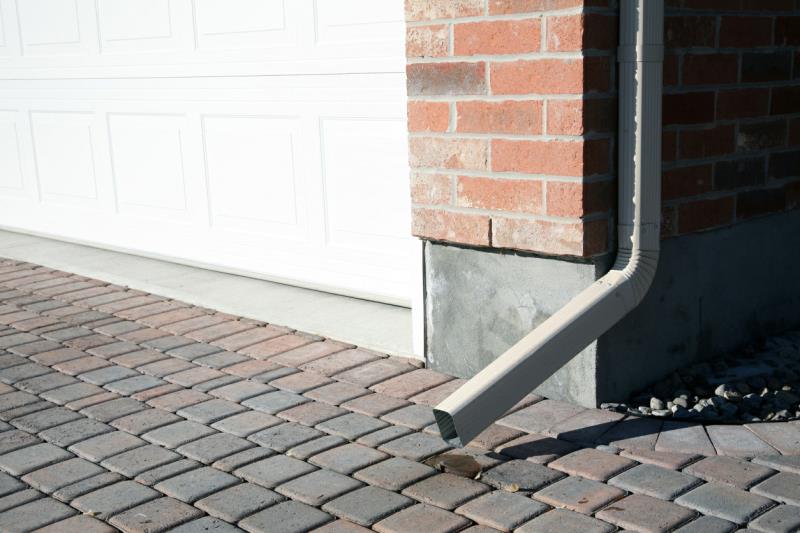 Rain Gutter Frequently Asked Questions

Why do you recommend 3×4" downspouts?

We recommend 3×4" downspouts because they have twice that inside area of 2×3" which makes them much less likely to clog. 3×4" downspouts also can handle twice the water volume which is very helpful in the heavy rains that we have in the summer. 

What is the proper slope for my gutters?

We recommend that rain gutter installation should drop from the highest point to the lowest point at a rate of a quarter inch every 10'. This ensures that water fully drains out of the gutters after each rain and helps keep small bits of debris from lingering in the gutters.

What is the best type of hanger to use to install gutters?

There are two primary types of hangers in use today. The first type of hangers are called "spike and ferrule" hangers and involve a large nail or spike that is driven through the front of the gutter and into the house. While very strong, these hangers often lead to fascia rot and are also very hard to remove to adjust the gutter in anyway.

The second types of hangers are called "hidden hangers." These are brackets that clip into the gutter and then are attached to the house with a screw. The advantage of these hangers is that they can be easily installed and adjusted. One downside of these hangers is that they are often not as strong as "nail and ferrule" hangers. In order to address this, we use Raytec Hangfast gutter hangers capable of holding and impressive 260lbs per hanger.

How many downspouts should my gutters have?

On most installations of your type, we recommend that you have one downspout for every 20' – 30' of gutter. In some situations, you can drain 40' of installed rain gutter to one downspout, but we try to avoid this as much as possible in order to maintain optimal performance and functioning of your gutter system.

Do the gutters ARCM installs come with a warranty?

YES! The gutter materials we use have a twenty year material warranty; additionally, ARCM warrants our workmanship for 5 years.

Importance of Gutter Cleaning 

If you think a few leaves and twigs in your gutter are harmless, think again. Clean gutters are the single most important key to avoiding major and expensive home repairs. Gutters perform one duty: controlling the water around your home. And if debris keeps them from doing their job, then you can wind up with some serious problems.  

Our Community Involvement 

ARCM Incorporated Copyright © 2014. All Rights Reserved.

ARCM Inc. - Gutter Division

Gutters are used to collect water and drain it away from the foundation of the home, preventing water from migrating into basements and crawl spaces.  ARCM Gutters and Roofing offers 5" to 6" gutters in aluminum, copper and steel.

Aluminum gutters have many positive attributes because they do not rust. In addition, they are reasonably priced and some manufactures offer a 50+ year paint warranty.  

Copper gutters enhance the beauty of your home. They don't rust or need painting and they are easy to maintain. 

Steel gutters are popular because they are especially strong and resistant to damage standing up to severe weather, falling branches, and ladders.

Aluminum Gutters

Edco

Copper Gutters

Steel Gutters

Firestone Metals

Gutters Do's and Don't!

1. Do clean your gutters in the spring and fall when there is a lot of debris falling 

2. Do put gutter protection systems on your gutters 

3. Do invest in a high quality seamless gutter system. 

5. Do make sure your landscape is sloped away from your foundation. 

6. Don't power wash your gutters as it may cause permanent damage to the gutters and sidint.

There are Many Color Samples Available!  Ask Our team about!

Financing Available Thru GE Capital  

ARCM Inc Colorado Centenial  Roofing  | Gutters | Painting | Siding | Windows | Fencing

Since 2009, we have provided exceptional property services to a variety of customers.